The Users page provides access to easily create, sort and update account specific Kochava Collective users.
---
Kochava Collective® Interface
Log in to Kochava.
Select the desired Account and App.
Select Collective > Users.
---
User Account Search Tools
User accounts can be searched for by the use of any of the following:
Search By Name — Type part of or the entire name to locate a specific user account.
Sort — User accounts can be organized by:

Name (A—Z)
Name (Z—A)
Date (Newest)
Date (Oldest)

---
Create a User
Click Add a User.
Enter a Username. (this will be the name displayed when the User logs in)
Enter a user Name.
Enter an Email Address. (this will be the email address that will receive any user specific notifications)
Select Deactivated > No.
Enter a Password.
Confirm Password.
Select the Groups:

Click "+" to add a Group.
Click "X" to remove a Group.

NOTE: For Collective purposes, the groups added by default are fine.

Select a Currency. (USD by Default)
Select a Time Zone. (Set to current Time Zone by Default)
Select a Language. (Set to English by Default)
Click Save.
---
Editing a User
Click User Tools (⋮) > Edit.
Update User settings.
Click Save.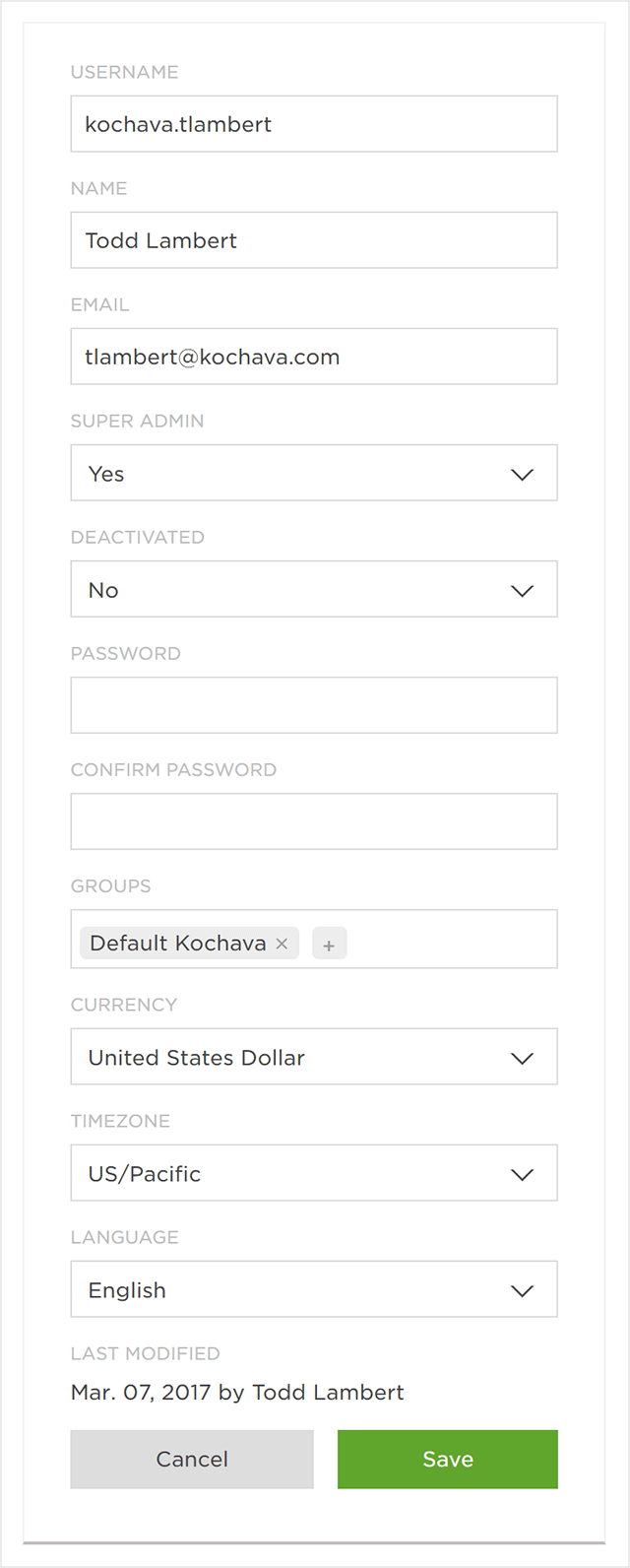 ---
Associate a User
Users from different account may be granted access to Kochava Collective accounts that they currently do not have access to.
Click Associate A User.
Enter one of the following:

Login ID
Email Address
User ID

Click Associate.
Last Modified: